This Associates at Spurgeon's College working partnership began in 2018. Spurgeon's College offers the Professional Certificate in Pastoral Supervision in a franchise- type arrangement in partnership with IPCS in South London. Materials are provided by IPCS and quality standards are maintained through mentoring and visits from the Nottingham team to the London base of the college. Dioceses or individuals with training and supervisory experience can find information on training partnerships in the 'Train With Us' section of the website. 
Tricia McIlroy, Course Leader
Tricia has been offering individual Pastoral Supervision to Church Ministers and individuals from other professions for several years. She is a Senior Accredited Counsellor, Psychotherapist and Supervisor with BACP and has been supervising Counsellors since 1992. She was the Course Leader and Tutor in Counselling at Spurgeon's College for 23 years and served for 10 years as a member of the Steering Group of the Churches Ministerial Counselling Service. She trained in theology in the 60s and have been married to Bill, a Baptist Minister, for over 50 years, so she has personal experience of ministry. She brings psychological and theological insight to Pastoral Supervision.
Bill and Tricia have brought up three children who all seem to have survived the experience and are committed Christians. They have six grandchildren who span a wide age range from the eldest who has completed University to the youngest who is at Primary school.
MSc in Counselling and Psychotherapy; Dip in Supervision; Advanced Diploma in Counselling; Biblical Counselling; Dip in Theology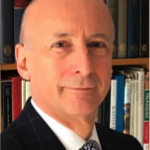 Rev'd Dr. Paul Goodliff
Paul has been offering pastoral supervision to ministers for the past ten years, and has also written and taught the Module on Supervision and Mentoring for the MTh in Applied Theology offered at Spurgeon's College. He is a Baptist minister and served in pastorates in Streatham, London; Stevenage, and latterly, Abingdon. He has also served as General Superintendent for the Baptist Union's Central Area, and as the Baptist Union's Head of Ministry. In the 1990s he chaired the Continuing the Journey Conference for Pastoral theologians and Psychotherapists. He is currently The General Secretary of Churches Together in England, having taken up the role in September 2018. Trained for ministry at Spurgeon's College, he completed a doctorate at King's College, London, and is an Associate Research Fellow at Spurgeon's.
He is a pastoral theologian, lecturer, trainer, poet, and author of four books, most recently, Shaped for Service: Ministerial Formation and Virtue Ethics (Wipf and Stock, 2017). With a life-long passion for supporting Christian ministry, he is a founder member of The Order for Baptist Ministry.
Married to Gill, a retired University Lecturer, they have three sons and six grandchildren, and live in Oxfordshire.
 Dip RS. BA. MTh. DThMin.
Rev.  Jeannie Kendall
Jeannie was born and raised in Cornwall, coming to London to train as a secondary school teacher, teaching R.E in two schools, including as head of department. She then went to work for Streatham Baptist church in various roles, including setting up and running a high street coffee shop and then training for counselling and becoming the founder director of Manna Counselling Service, which won a Whitbread Award in 1998.
Jeannie subsequently trained for ministry at Spurgeon's College, serving as an associate pastor at Streatham Baptist Church before becoming co-minster at Carshalton Beeches Baptist Church in 2011. She retired from there in October 2020 and now serves the wider Baptist family in a number of ways. She has previously taught Pastoral Care and Counselling at Spurgeons and was College President from 2017-2018. Her first book Finding Our Voice was published in 2019, and her second, Hold in Your Bottle (on the subject of tears) in 2021. She is married with two children and two grandchildren and enjoys photography and theme park rides.